INDUSTRY SOLUTIONS
Inventory, Sales, Service, and Delivery
We can help you select the right mobile technologies and then ensure their successful integration into your existing systems.
---
INVENTORY
Take advantage of our 20-plus years of experience in helping companies like yours understand how to best integrate barcode scanners, printers, and rugged mobile computers successfully in your operation. With our partnerships with leading manufacturers of barcoding systems and our knowledge of ERP integration, DCT Solutions Group offers end-to-end solutions for warehouse operations of all sizes. Additionally, our Scout Mobility Suite software is the result of many years of experience designing inventory management systems in a wide variety of systems, and scales from simple inventory tracking to complete Warehouse Management.
DELIVERY
Final mile delivery is no longer a novelty. Led by Amazon, everyone from e-commerce to manufacturers and distributors, major retailers, grocery stores, and local restaurants are impacted by this trend. In order to compete, you need to be able to efficiently and cost-effectively optimize your resources, to schedule and dispatch, and to provide visibility to your customers and trading partners. DCT Solutions Group offers a complete solution, from order initiation and management, to route optimization and scheduling, with realtime data sharing throughout the supply chain. Our mobile solution allows you to track your delivery drivers as they capture photographs, signatures, and payment with an easy-to-use interface.
SALES
Whether your model is direct-store delivery, remote order entry, pre-sales, or route accounting, DCT Solutions Group can provide an end-to-end solution to better manage your inventory. This includes scheduling, route optimization, fleet management, and mobile invoicing. We also provide mobile computers ranging from inexpensive tablets and cellphones to enterprise-class rugged devices to perform in any environment. Our end-to-end approach to system integration will greatly reduce your risks and ensure your solution is on time and on budget.
SERVICE
DCT's Service Management solutions ensure that you get the right tech and the right tools to the right spot, all on schedule. We help you quickly and easily dispatch, track, and measure your service calls to ensure the highest level of customer satisfaction and profitability. Count on DCT to deliver a complete solution including hardware, software, implementation and on-going support.

Call us today!

800.899.2591

or

816.472.SCAN (7226)
RUGGED MOBILE HARDWARE
CLICK BELOW TO VIEW OUR RECOMMENDATIONS
We support Android, iOS and Windows Mobile
---
SCOUT MOBILITY SUITE
FOR INVENTORY, SALES, SERVICE, & DELIVERY
---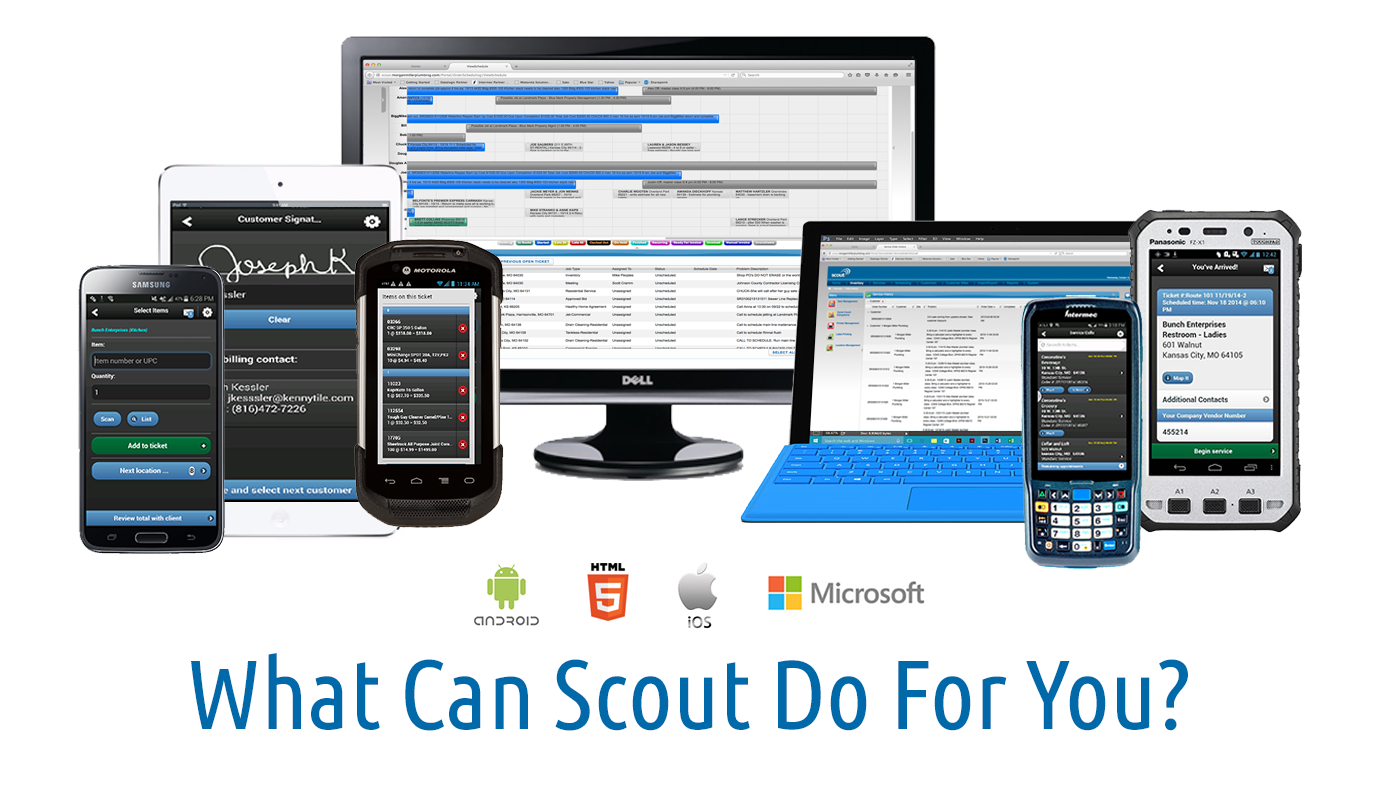 INDUSTRY EXPERTISE
Since 1998, DCT Solutions Group has served a wide variety of customers across many industries. As a DCT Solutions Group client your organization benefits from years of experience with innovative organizations.
---

DCT Mobile Solutions is a full service provider of integrated systems for mobility applications. Our experienced consultants will work side by side with your team to design integration, implementation, training and support plans customized to your needs.
---